We organize several short term workshops for children, parents and for both of them together, having multiple objectives like acquiring knowledge, learning newer skills and also social skills.
2021
Year - 2021
1. I want to Excel - For Children
"We are what we repeatedly do. Excellence, then, is not an act, but a habit." - Aristotle

We believe that it is possible to instill this habit in children at a young age. A workshop titled 'I want to Excel' for children was organized on 31st March, 1st and 2nd April, 2021. Ms. Beena Handa (Founder - Director of Poiesis) elaborated the major 5 key elements to achieve 'excellence' - Believing in 'I am capable of doing more', Use of thinking power, Mapping of plans with deadlines, Being persistent and Getting support. Children enjoyed the one-to-one discussion, playing games, listening to achievers incidents and watching some inspiring videos. They also implemented their learning of two sessions in the 3rd session through mapping a plan of an entrepreneurial adventure. Children promised to do continuous improvement and smart thinking to achieve excellence in their daily life.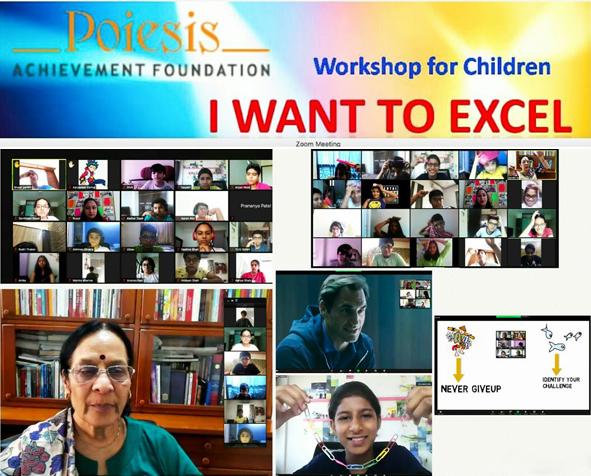 2. What we really want for our children – For Parents
As parents, we want many things for our children. We want them to excel in life, be independent, self-reliant, persistent, healthy, happy and much more. If we can make them responsible and emotionally agile right from young age, many traits get added as they grow.

We organized a webinar on 'What we really want for our children' on March 05, 2021. It was conducted by Ms. Beena Handa, the founder-director of Poiesis. The webinar focused on the role of parents and ways to help the child to develop these and many more qualities. We started with reality check of the world of children and parents, did many role-plays on daily situations to generate different ways in which parents can respond. Responsible and emotionally stable parents help their children through the role-model effect. The active participation of parents made the exchanges extremely useful and interesting.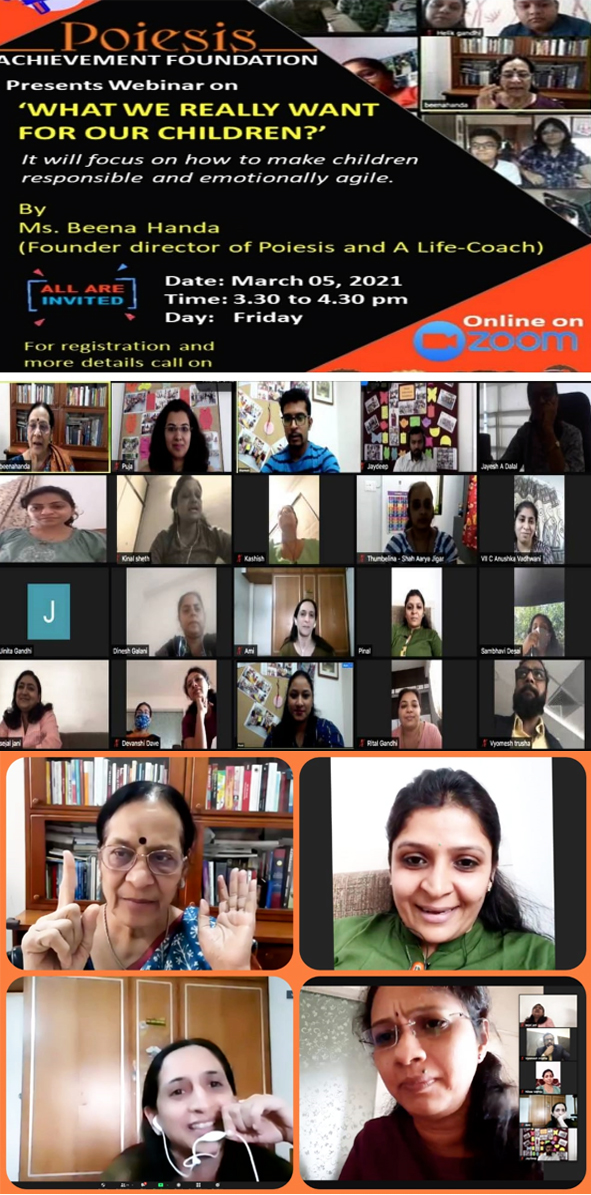 3. Talent Show – For Children
We welcomed 2021 with a smile by giving a platform to children where they can showcase their talents like singing, instrumental music, mimicry, stand-up comedy, poetry recitation, magic tricks on 23rd January, 2021. Children participated with their full enthusiasm and played many virtual games also. It was a fun moment for all of us.

Covid times have been tough, especially for children when they were home bound. It was really very heartening to see that they have used their time by learning new things and exploring on-line world. Congrats to them and their parents too, for encouraging them.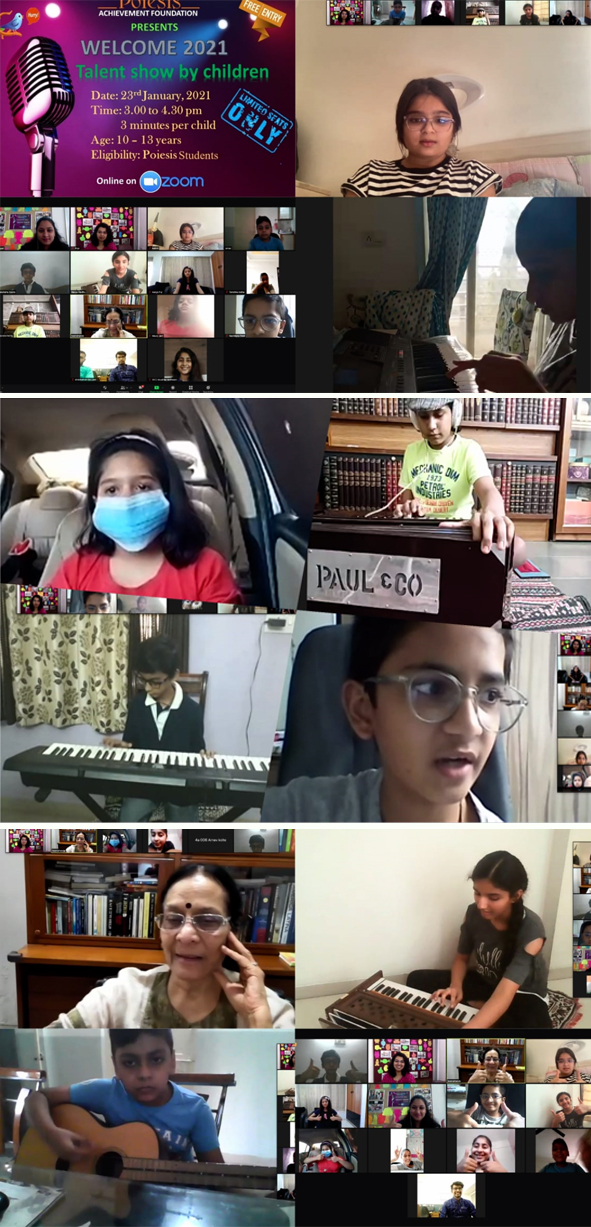 4. Face to Face with a business leader - Mr. Sushil Handa – For Children
We had organised an interacting session between Poiesis children and Mr. Sushil Handa, entrepreneur and founder of Claris Lifesciences Ltd., Abellon Cleanenrgy and Flourish Purefoods. He shared his life experiences of starting and developing business organisation and challenges faced. He motivated children to work hard, be focussed and learn as many new things as possible. Children enjoyed the session a lot and asked many questions to know more about his style of working and how to deal with people who are stubborn and team building. Here are some of the learning.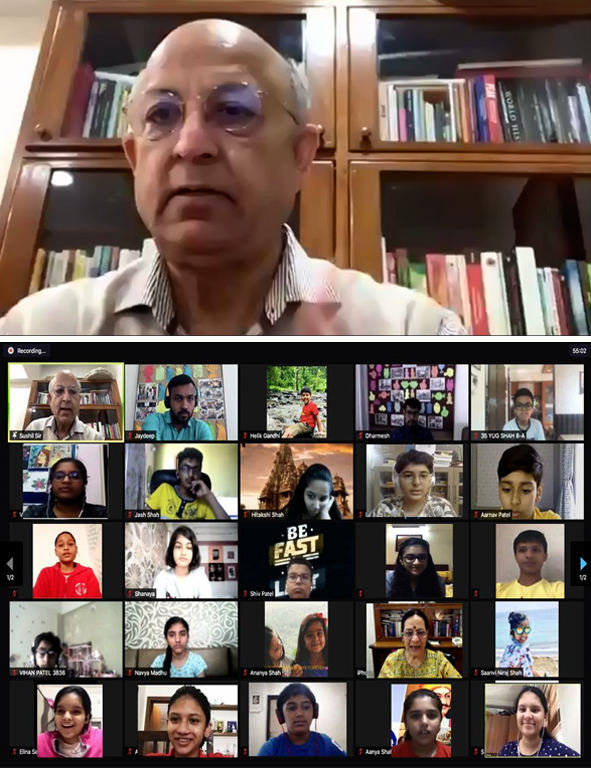 Feedback of Children
"Sushil Sir's whole speech was very inspiring and educative. My favourite part was the five gems of life - Faith, passion, hard work, persistence and communication skills. These are really useful qualities to be successful in life." - Shanaya

"I have learnt that to manage people, you should have good virtues and are punctual. Then your colleagues and the people around you will see that and will respect you. They will try to improve themselves seeing you and the team will be virtuous depending on the qualities of the leader." - Swayam

"After attending Sushil Sir's session, I think I would like to develop qualities like hardworking, problem solving, being confident, patience, having convincing power and being courageous." - Saanvi

"I liked the way Sushil sir explained to become a successful person, which is my dream. He said how constant hard work and never give up attitude help us to be a leader. The other three are, faith, passion and communication skills." - Shiv

"The most important is to be hard-working. It is good to be a simple and innocent person than to be a smart and intelligent person. A leader's communication power should be good." - Navya
2019
Year - 2019
1. Developing Scientific Attitude and Aptitude in Children – For Parents
We organized a workshop on 'Developing Scientific Attitude and Aptitude in Children' on October 14, 2019 for parents. It was conducted by Dr. Megha Bhatt, founder director of Sci.Know.Tech. Dr. Bhatt is a scientist herself and very passionate about creating love and understanding about scientific bent of mind in children. She conducts various programs for children at her academy. During her talk, she emphasized on importance of science, raising awareness by the parents and how exposure by them can lead to exploration through dialogue and generate scientific environment at home. Asking questions and exploring the subject through background research, constructing hypothesis, conducting experiments, data analysis and drawing conclusions are the simple steps to follow.

She shared many examples of small projects like water wastage in home or society can be conducted. Also, how while planning for travelling to a beach, mountain or jungle, it can be turned into 'Science Tourism'. She did a few 'magical' demonstrations to explain scientific principles. The ideas given by her on improving the interest of children for scientific knowledge were well appreciated. The parents enjoyed the concepts and found practical ways suggested by Dr. Megha Bhatt very useful.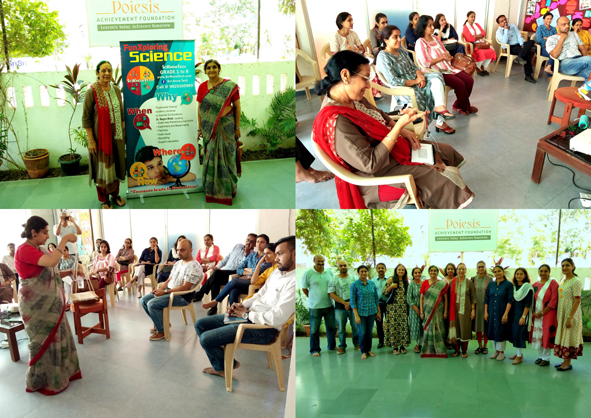 2. Young Guests at Poiesis – For Children
We were happy to welcome young children of Knowledge Seeker Grammar and Concept institute lead by Ms. Ekta Desai on 28th July, 2019. Children were very happy to be at Poiesis. We had two groups- Junior Group and Senior group.

Junior Group worked on the concept of how to write a story, based on pictures and how to narrate them using verbal and non-verbal communication. Children made very imaginative stories in small groups with the titles of- 'The Grandmother and the young treasure founder', 'The Magic Tree', 'The two Friends and the treasure', 'A boy who flew away', 'The friendship of true friends' and 'Kite competition'. We loved observing their confident smiles and sparkling eyes.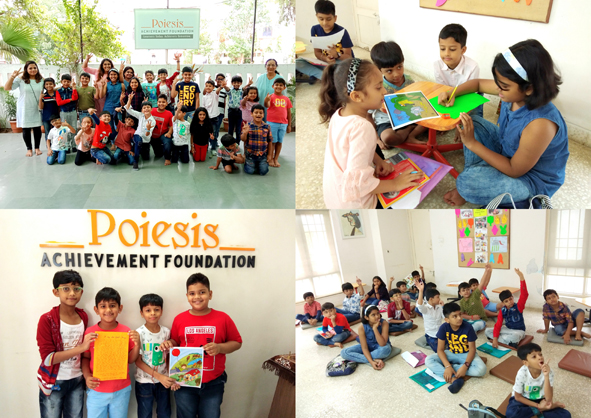 The children of Senior Group became architects. They visualized and created 'Children's Mall' in a team. All of them had thought of different features like Mickey Mouse entrance and Zip liner door. Some of them added theme park, theatre as well as stores for clothes, stationary and things children love to buy. They reflected on their behavior and learnt about teamwork. They also shared their Aha! moments.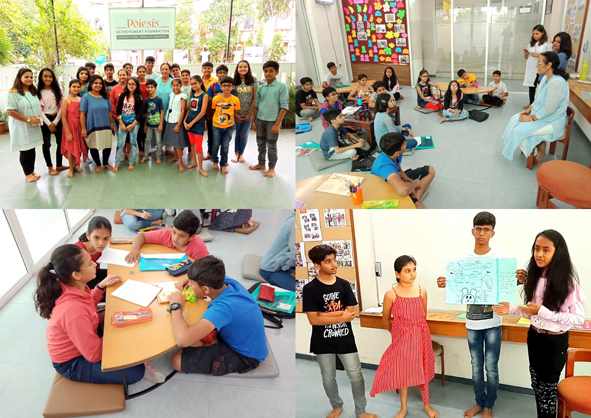 Feedback of Children
"I liked the session very much. I came to know the actual meaning of team spirit and togetherness. Working together was a lot of fun. Thanks a lot, Beena Ma'am, for spending time with us and making us understand about teamwork" - Mokshit Jain

"This was one of my best life-skills sessions. Ms. Beena Handa taught us to do teamwork, how to improve it, how to manage time and work within the limited time. It was very enjoyable." - Griva Vyas
3. Body Language Workshop – For Children
We conducted a workshop on body language for children on 15th June 2019. It was conducted by Ms. Swapna Sai in a very child-friendly way. She talked about importance of body language in effective communication. The children were surprised to know that language plays 7%, tone plays 38% whereas body language plays the role of as high as 55% in personal communication! The other important aspects learnt by children are confident posture, ways to shake hand, use of hands, eye-contact and smile while interacting, use of zones in a relationship and positive introduction. The practical exercises and working in team gave a lot of opportunities to children to learn basic principles experientially and internalize them while having fun and making new friends.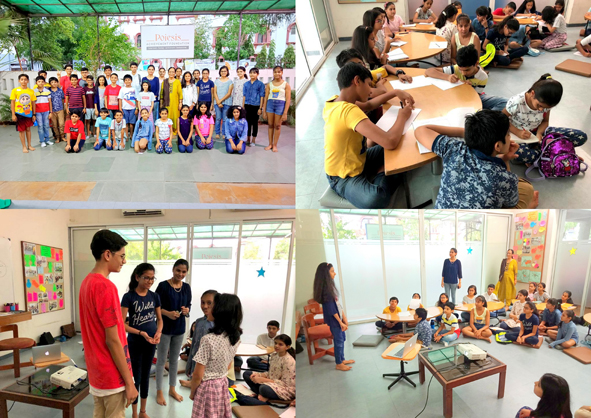 4. Amazing Science – For Children
Science is all about exploration and discovery, so there's no better way to get young scientists excited about learning than with hands-on activities and experiments. We had organized a workshop on 'Amazing Science' for children on 5th & 6th January, 2019. The objective of this workshop is to give children an opportunity to understand different scientific principles and make models using these principles and Do-it-Yourself kit by themselves. 27 children participated in this workshop. Children were very energetic and joyous while making the models. As they were making them individually, it was easier to raise and get the answers to their queries. It also added more fun to their learning's. They made three models - DC Motor, Scribbling machine and Infinite LED. The young scientists were so happy to see their models working perfectly. The work-shop was conducted in collaboration with Curio-O-Box, well known for its DIY (Do It Yourself) kit activities.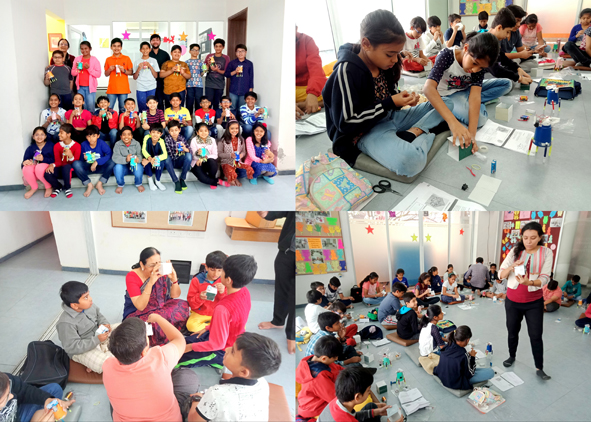 Feedback of Children
"I liked making scribbling machine a lot as I can make many creative designs using it." - Rohan Patel

"I was very amazed after making Infinite LED to see how a single LED resulted into infinite LEDs through reflection. Also understood the principle of reflection." - Fenil Patel

"Though DC Motor was tough to make, I successfully made it." - Vaibhavi Ranade

"I liked the orientation and explanation process of models. It was easy to understand and make." - Navya Pandey
2018
Year - 2018
1. Creative Story Telling - For Children
Children ventured into the Wonderland of Stories on 13th, 20th and 27th December 2018 and roamed into jungles with animals, mountains and valleys, cities and villages and met different characters. They listened to Ms. Dipali Bhachech, a fantastic story-teller and learnt about using voice and gestures while telling a story. They created stories by connecting each other's words and sentences, visualized stories and made drawings in teams. Finally, they enacted their stories with the help of powerful dialogues, effective use of voice and appropriate body language. They experienced their narration skill with Aha! and broad east to west smiles on their faces!!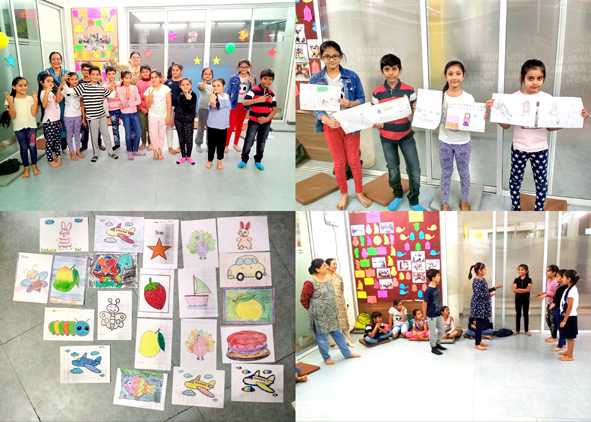 2. Empower The Learner – For Children
Poiesis had organised a workshop on 'Empower The Learner' by Ms. Swapna Sai, life-skills coach on 7th & 8th June, 2018. The objectives were to enhance their concentration power and making them internalize good study habits. 35 children participated. The Children just wanted to talk and talk and talk as she made them think, think and think. One subject was use of technology-How much is too much? She taught them simple exercises to improve concentration and evolved guidelines for method of studying through teamwork. Their sharing through creative drawings like coconut tree, book, feather, pen, clouds etc was amazing. The children enjoyed the quiz at the end of the day. They promised to apply all their learning for the better results.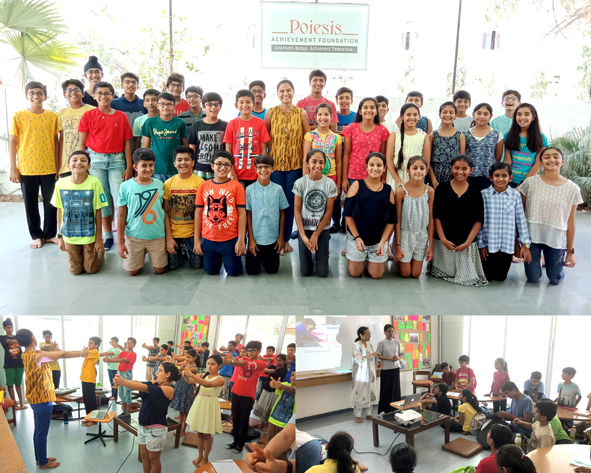 3. Raising an Emotionally Intelligent Child - For Parents
We had conducted a workshop on 'Raising an Emotionally Intelligent Child' on 3rd May, 2018 by Mrs. Beena Handa, Founder, Poiesis Achievement Foundation.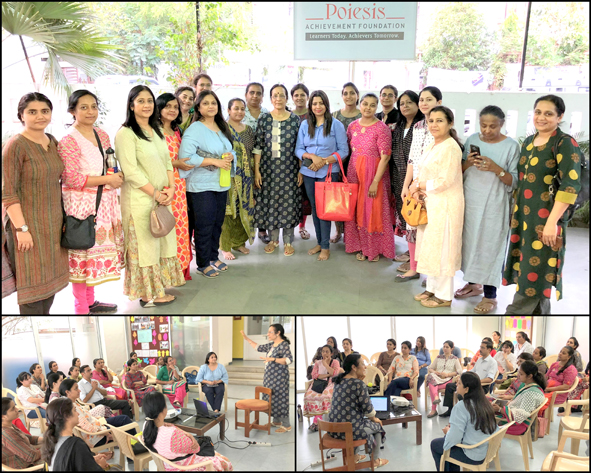 Intelligence is our cognitive abilities to acquire knowledge, learn and to solve problems. But as Daniel Goleman, behavioural scientist says, only intelligence is not enough to succeed. We need emotional intelligence (EI) too! EI refers to our capacity to recognize own and others feelings and managing emotions well in ourselves and in our relationships. His book, 'Emotional Intelligence' is in print in 40 languages and the best seller in many countries.

The discussion focused on parenting styles. The parents can raise child's emotional intelligence by becoming 'Emotions Coach.' The case-studies covered five steps such as 1) Being aware of the child's emotion 2) Turning emotional situations as opportunity for teaching about emotion management 3) Empathetic listening 4) Labeling the emotions 5) Responding to the situation and finding out a solution, keeping in mind parent's agenda and child's feelings.

The parents realized how important empathetic listening is. They expressed a desire to learn more about listening in future workshops.
4. Creative Story Telling - For Children
Creating and narrating stories is an art. It is a wonderful way of firing imagination, cultivating empathy by getting into the skin of characters, learning to use appropriate words and training tone and voice modulation. That too with total engagement!!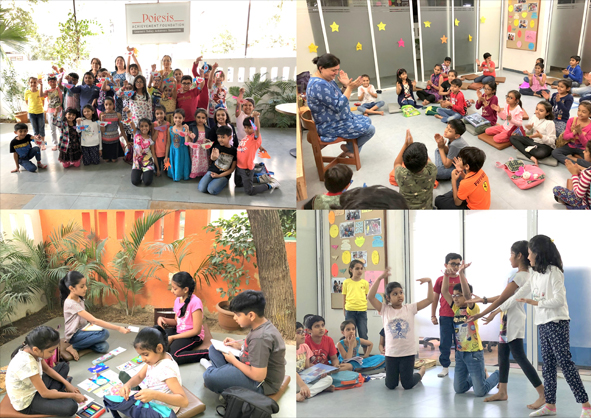 We had the pleasure of witnessing all this on on 1st, 2nd, 3rd February during a workshop on 'Creative Story Telling' by Ms. Dipali Bhachech, a master story-teller. 30 children participated. The children created stories based on their drawings, thoughts and imagination. They narrated their stories with the use of words, voice modulation and by acting them out. They were very glad to make a rooster and were busy thinking about how they will weave another story!! Super fun, super performance and loads of laughter were the outcome - Not only for the children but for the facilitators and Poiesis team members too!!

Thanks to our children and parents for their enthusiastic response.
5. Career Choices - For Children and Parents
We had organised a workshop on 'Career Choices' by Mr. R. Dhirendra, CEO and Founder Director of Eduequity Career Technologies Pvt. Ltd. Bengaluru on 12th January 2018 along with Ms. Asha Patel, who heads their A'bad operations. It was a very fruitful discussion on different opportunities available; importance of a match between personality, attitude, interest and career; parent's role and development of life-skills for success. Poiesis programs focus on knowing self and life-skills. Everyone found it helpful and a good trigger to think about the process and be an achiever. We are very thankful to all the parents and children for their participation, as the speaker called it as one of the most interactive meetings they have done in Ahmedabad.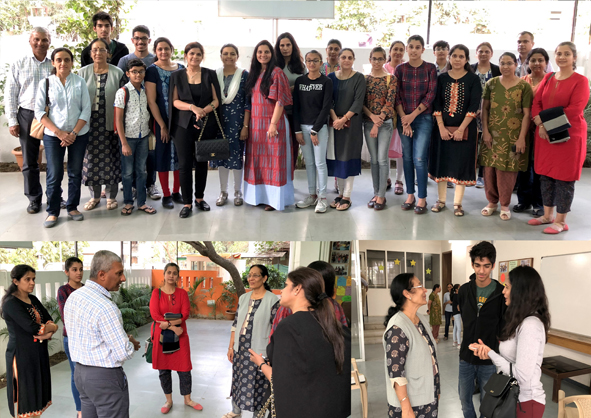 2017
Year - 2017
1. Nurture Your Child's Developing Mind – For Parents
We organised 'Nurture Your Child's Developing Mind' by Ms. Beena Handa, Founder on 24th June, 2017. She talked about ways to stimulate the rational and emotional brain so that the whole brain is developed and the child is able to meet intellectual demands and is able to calm the mind. It is only calm mind that can think holistically. Several day to day examples like tantrums, withdrawal and aggressiveness were taken as case-studies and discussed with parents. The parents liked the new approach of neurology. Their experience sharing and participation made the session very interesting.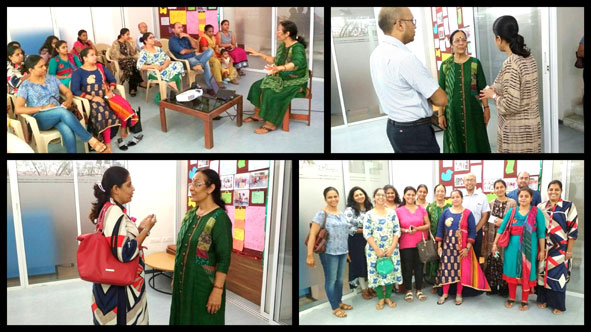 Feedback of Parents
"I learnt how to be with my kid & how to respond in different situations. I have to step out of my world & get into my kid's world to understand him better. Parenting is a great opportunity & a privilege & I should enjoy it to the fullest." - Nandish Desai

"I learnt about the connection between right and left brain. i.e. Mostly children use their right brain and we use our left brain. We should understand our child's emotions and then deal with the situation." - Mamta Galani

"I will try to listen to my daughter. I will cuddle her & be more like a friend. I will give her company so that she would not feel lonely." - Kiran Tamhaney

"I will calm myself before reacting, try new ways to give the same instructions and try connect through the same side of the brain." - Anshul Patel


2. Movie Screening – Ratatouille – For Children
Children loved the movie 'Ratatouille' screened on February 11, 2017. It is a funny and inspiring story of a Rat (Remy), who is ambitious and gifted with highly developed sense of smell and taste. He wanted to be a chef, someone that a Rat has never become! Impossible goal is what everyone told him! The film shows how he followed his dream passionately and succeeded in having his own restaurant!! During discussion, children shared their goals, experiences and qualities like perseverance, patience, determination, knowledge, expertise etc. required for achievement.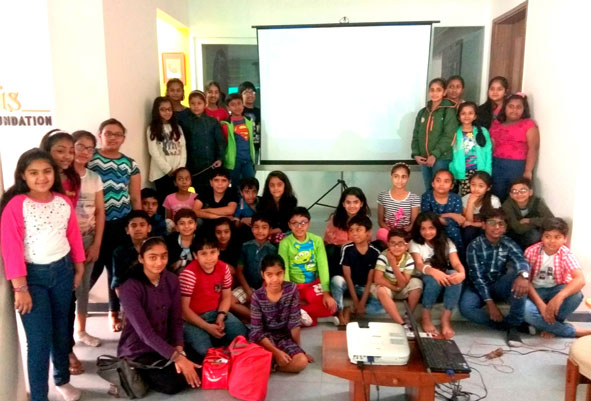 3. Readography - For Parents
We had conducted a workshop on Readography for children in December 2016. Several parents had suggested to conduct for the parents also. So, we did a workshop for parents too on January 28, 2017, wherein 23 parents participated. It was conducted by Mr. Mithilesh Chudgar, a performance coach.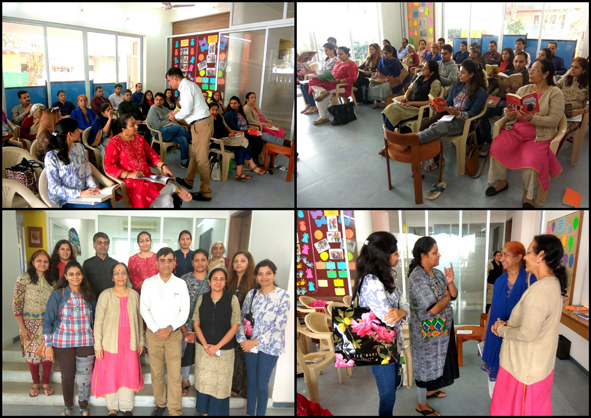 2016
Year - 2016
1. Readography - For Children
We had organised a workshop on 'Readography' for children above 12 years of age on 27th October, 2016. It was conducted by Mr. Mithilesh Chudgar, a performance coach. 24 children benefitted from the workshop.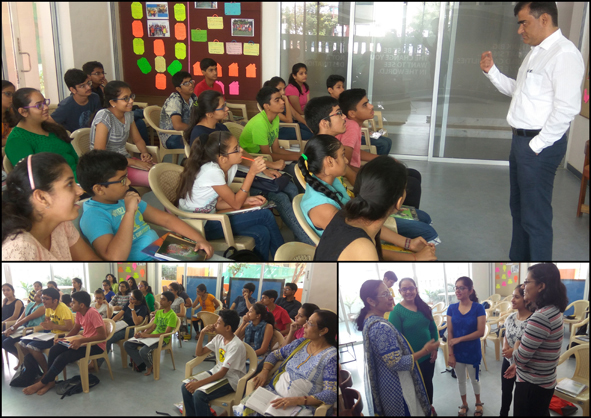 Readography is a scientific process of reading to enhance registration, retention and recall of information. The workshop started with a simple explanation of how our brain functions and then highlighted the steps to be followed while reading. The process has a positive impact on our readiness to learn and focus, resulting into better registration.

The children were asked to bring text-book of a subject they find difficult to learn and were taught how to read it!! Consistent practice leads to not only better registration but also faster retrieval and recall. The participant found it useful and interesting. Those who will practice will certainly reap the benefits.
2. What to say after Hello? - For Parents
What do we see when we enter a room where people are sitting? Some are talking and some are just waiting for another person to start the conversation….Yes, many times we are lost for words, after saying Hello!!, especially with unknown people. Keeping such things in mind, we organized a 3 days workshop for women on 'What to say after hello? on 4, 6 & 8th February, 2016 for parents by Ms. Beena Handa, Founder. It focused on how to start a conversation with individuals or in a group by asking low risk questions and how to make our talk interesting. It also focused on speaking in public, preparing the content and using verbal and non-verbal ways effectively. All the participants became confident and realized that yes, conversing or talking in public is simple, yet it comes through practice, practice and practice…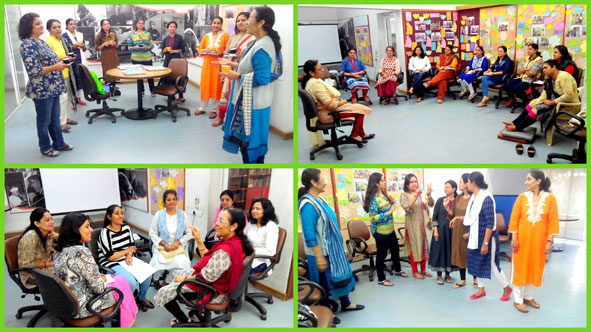 2015
Year - 2015
1. Be happy through mood management - For Parents
If a mother is happy, the happiness overflows in the form of positive emotions and actions to her child. This makes the child happy, valued and a happy child becomes a confident child.

This happens provided mothers are able to manage their moods. We had two workshops on the subject of mood management in the month of October and December 2015. 52 mothers participated. It was conducted by Poiesis founder, Ms. Beena Handa.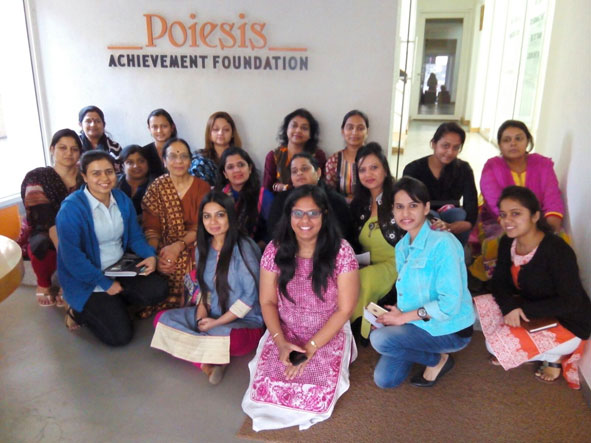 The workshop focused on biology of moods and its classification into action, anxiety, calm and depressed moods, our behavior pattern in each mood and how to move to action and calm moods. It was explained that anxiety can work as a push if it remains within limits. 'Action' mood may lead to problem-solving, at times impulsively, whereas a shift to calm mood periodically leads to reflection, improvements and greater efficiency.

Our moods depend on our surroundings, physical health, knowledge, our nature comprising of values and beliefs. The case discussions highlighted the role of irrational beliefs and how questioning them would lead to calm mood. It also covered how to respond when children are in different moods and help them to get into required mode of behavior.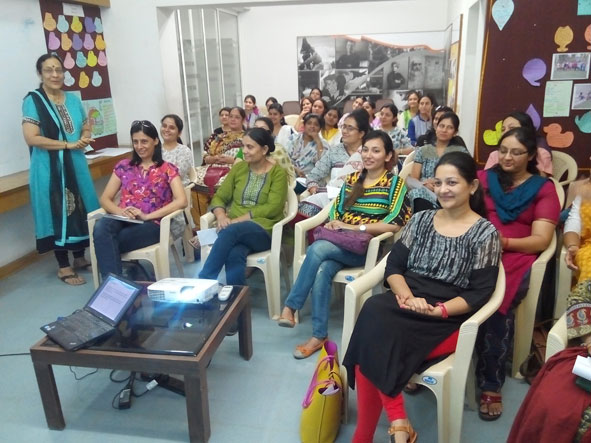 The participants found the workshop extremely useful and practical. They were able to get in touch with their beliefs and understand how they are instrumental in creating moods. Also, how to make them more rational and be happy in relationships.
2. Movie Screening – 'I am Kalam' - For Children
'I am Kalam' film screened at Poiesis on 22nd August, 2015 to pay a tribute to Dr. Abdul. J. Kalam. About 40 children saw the film and were motivated by the way Chotu, a 12 years old boy internalized the message of Dr. Kalam that 'Goals, Education, Hard work and Patience' are required to fulfill our dreams. Chotu's dream was to go to school and he really achieves it. It is a wonderful film and should be seen by one and all!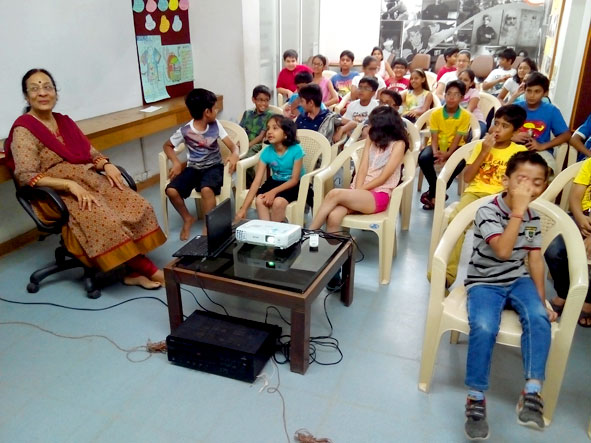 3. Harmony in Relationship - For Parents
We organised a workshop on 'Harmony in Relationships' – Jeevan Vidya way by Shri Suresh Patel on 11th August, 2015, 36 persons participated and benefitted from the workshop.

Sureshbhai explained in a very lucid way about needs of two levels. One, needs that money can buy, which are related to Food, Shelter, Clothing, means of connectivity like phone, T.V. and car. These needs are linked to body. The pleasure is short term. Second, needs that money cannot buy are happiness, relationships, satisfaction, peace, joy. These needs are linked to 'I', the inner self. The pleasure is long term.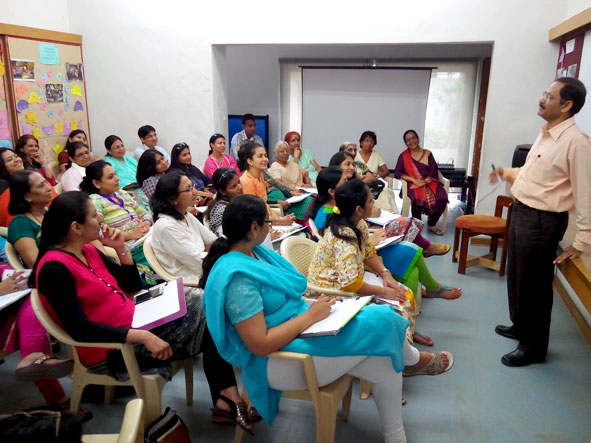 The long-term pleasure of 'I' is linked to four factors.
1. Finding out solutions to personal problems, 'Problems' are not an issue; it is lack of solution which bothers us.

2. The feeling of 'family' has everything by each and every family member. We need to develop a common family vision.

3. Safety in society which depends on everyone having enough, social justice and adherence to law.

4. Healthy environment – Fertile land, healthy air, water etc. related to right use of natural resources.

We spend more time for getting short-term happiness (material things) and give less thoughts to 'I' needs. If we work on the other factors and do not expect 'completeness' in the other person in a relation, it would lead to happiness and harmony.
4. In Search of My Time - For Parents
Women have multiple roles, especially after marriage. They become 'care-takers' of the family. Motherhood adds a new dimension to 'things to do'. The 'work-life' also has its own demands on time allocation. As a result it is quite common to end up with a feeling that she is not able to give time to herself and pursue her interests.

The workshop 'In Search of My Time', on 28th February, 2015 was a pre-celebration of Women's Day, a right day to raise the issue. The work-shop was kept early as the month of March marks the exam time for children. It was lead by Mrs. Beena Handa, Founder, Poiesis.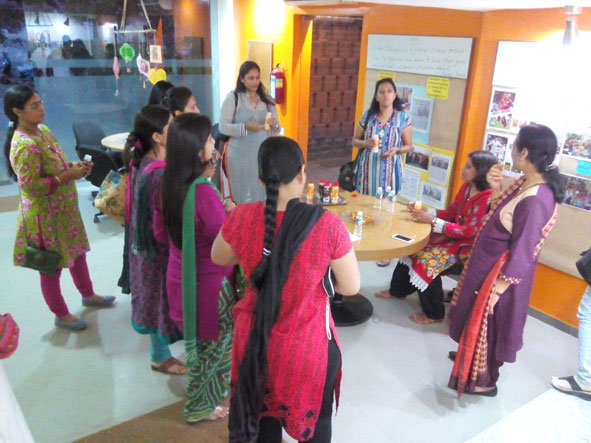 The discussion centered around the fact that we have twenty four hours, so in order to gain time, we have to either increase our efficiency, save time and use it to pursue our interest or delegate a few tasks to gain time. The impact of habits like procrastination, indecisiveness, friendliness on use of time was explored, along with 'bad moods' and how to manage these habits & emotions. Planning, empowering others to do tasks, being systematic were considered as the important ways to become more efficient. It was a reality packed and lively workshop, which ended by having informal time over snacks.
5. Power of Introverts - For Parents
This workshop for parents was conducted on 19th January, 2015, by Mrs. Beena handa, Founder Director, Poiesis.

Introversion was first defined by psychologist Carl Jung in 1921, as a basic personality trait. Industrial Revolution created the need of people who can supervise/ sell products and hence extroversion ability to interact with people gained importance and is considered to be a key to success. This is not totally correct as the achievers such as Gandhiji, Abraham Lincoln, Albert Einstein and many were introverts. Introverts are very good thinkers and listeners and hence the world needs them too!!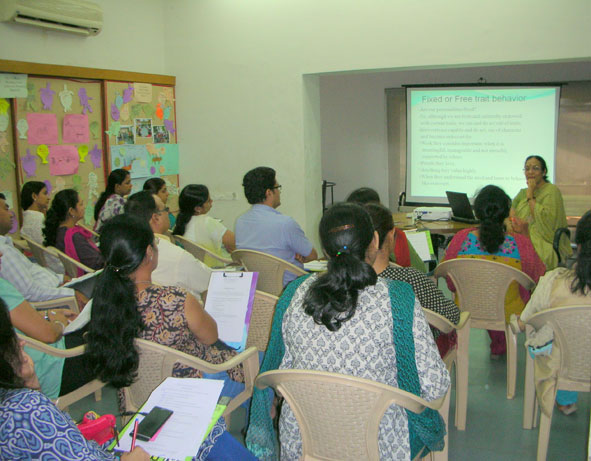 The workshop focused as how and when introverts change. The parents have to help their child to identify areas of interests and support them. The different ways to deal with introverts was discussed through case-studies and experience sharing. The discussions reinforced the fact that nurturing the child in the certain ways helps them to be at their best.
2014
Year - 2014
1. Social Network and Technology - For Parents
We had organized a talk on "Social Networking and Use of Technology by children" on 21st November, 2014 by Ilaxiben Patel, Educationist and Author of 'Guardian of Angels', a book on parenting.

She talked about the different gadgets with screens and activities of children like T.V, computer games, mobiles, iPod, iPad, iPhone, social networking sites. The right use opens up many avenues for learning but excessive use leads to addiction and many hazards like bullying or social alienation. It also has an effect on health like obesity, developmental delays, concentration problems, effect on eyes, unorganized life-style etc.

Ilaxiben covered many useful questions which parents have in mind. Is it possible to stop the use of technology? How to maximize the benefits? Reduce negatives? Which safety measures? Safe search engines for children, tips on cyber bullying and projecting the right image and many others. The parents found it extremely useful.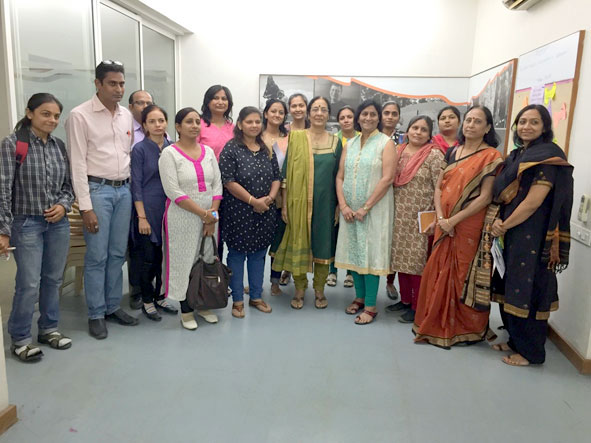 We are glad that with her experience & knowledge sharing, we have addressed the need of the hour. Planned use of technology by parents or children can lead to intellectual development but just for fun and time-pass means a disaster. Reducing time for technology means more 'family time', leading to healthy emotional growth of children.
This is what the children and the parents shared at the end of the workshop.
Parth Agarwal said before joining this workshop he believed that he can never solve this cube but now he can solve it very easily.

Vidit Patel said he was afraid of solving the Rubic cube. He had thought that he cannot solve it but now he is very happy that he attend this workshop and learnt to solve.

Neilay Bhatt shared that he was able to understand the techniques as faculty had explained in a very slow and easy manner.

Mitansh Kabra said that till now he got bored solving the cube as he could solve only first 2 layers only. But after this workshop he is enjoying as he is able to solve the whole Rubic cube easily.

Nethra Mehta liked the way faculty explained the formulas of solving Rubic cube in a story telling way.

Ritanshu Chandrana was happy to learn to solve the cube in a very easy manner and thanked the faculty for making them understand it in a way they will remember.
Feedback of Parents
"Sending Tanish to Poiesis is utterly our pleasure!! Even though he was leaving for his school the day after the program he did not want to miss it. He enjoyed the workshop to the fullest. He earned himself another 4×4 rubic cube after solving the 3×3 cube for the nth time. Waiting for another such workshop/programme." - Salvi Broker

"Mitansh thoroughly enjoyed the workshop, thank you so much. We are looking forward for the summer program. Thank you so much for being there." - Usha Kabra

"Thank you so much Beenaben. Maahi always likes to come to Poiesis and we also motivate her to attend innovative and creative programs at Poiesis." - Bijal Vyas

"Thank you for your encouragement and guidance Ma'am." - Aanchintya's Mother

"Thanks Ma'am. Aamiya also was very happy to see you again. She enjoyed the workshop too." - Khyati Vyas
2. Round the Corner - For Children
We had organized a workshop "Round the Corner" on 30th and 31st October in which Mr. Hetas Pandya, Poiesis parent and life coach showed different steps to solve the puzzle.

Rubic's cube is a 3-D combination puzzle invented in 1974 by Hungarian sculptor and professor of architecture Erno Rubic. Rubic cube!! Although it was invented 40 years back, it is still considered to be one of the toughest challenges to meet and one of the highest selling puzzles.

Children picked up the steps very fast as Hetas Pandya turned every important stage in a story form involving a child and her movement. Very soon, the children were familiar with terms like edge, corner, center pieces or different corners. They enjoyed and mastered it with practice! Once solved, they did not feel like dismantling and practicing again!! It really required guts to break and rebuild it.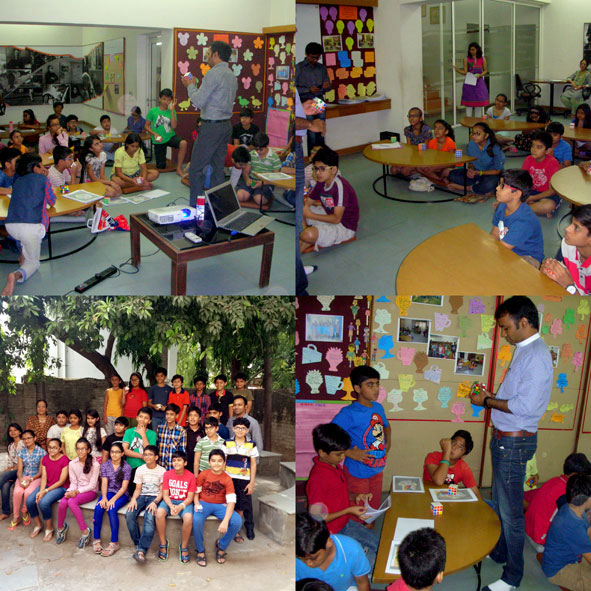 Feedback of Children
"It was fun doing designer calligraphy. I have learnt a lot over here." - Anuli Sanchaeawala

"It was really a satisfactory workshop with some new concepts of fun fonts, which made the workshop enjoyable." - Yookta Ahuja

"Good techniques!! Looking forward to come again to do something more interesting." - Sanya Gupta
3. Raising Emotionally Intelligent Child - For Parents
This workshop on 'Raising Emotionally Intelligent Children' was conducted on 9th August 2014 by Mrs. Beena Handa, Founder of Poiesis Achievement Foundation.

Every parent aspires to raise a child who is capable of facing life's challenges. The research has shown that high intelligence is not sufficient to be happy and successful. We also require emotional maturity as high intelligence leads to high skills but high emotional intelligence compliments with high will-power and ability to deal with people.

Family life is our first school for emotional learning. We learn how to feel about ourselves from the claps and frowns we get at home. The workshop covered the pros and cons of different parenting styles and advocated style of 'Emotional Coaching'. It was explained in detail through exercises in listening and being empathetic.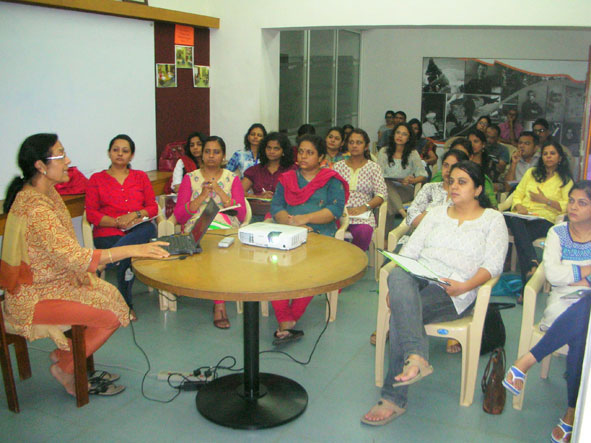 Feedback of Parents
"I realized that more I ignore or neglect my child's misbehavior/negative emotions it is going to multiply. The best way is to accept, guide and be emotional coach! Thank you Beena ji!" - Jigna Vora

"Very enriching!! Could relate to Beenaben completely. Never knew one can also deal in this manner." - Priti Oza

"Enriching, gave an idea on how to control my emotions and anger while facing the child. I will try to put forward the teaching and see the change." - Vaishali Zinzuwadia

"Thanks for helping us to tackle the difficult situation with our child with positive behavior." - Shuchi Kothari

"It was really good, Emotional Intelligence as a concept I was aware, but due to time pressure and my own emotional caught up state, I was not able to deal with it, and hence it was a good revisit." - Anamika

"A very good reflective workshop. A lot Nos for me as in spite of studying Montessori, I have been a dismissive and disapproving parent. Looking forward to more such workshops." - Sapna Surana

"It was so well planned that each thing in it I could relate in with my day to day dealing with children and yes I understood how to deal with my children in a better way." - Rashmi Rungta
4. Designer Calligraphy - For Children
Anything written in good handwriting makes it understandable and anything written in creative way attracts attention and evokes a 'feel good' response and makes it attractive enough to read it first. Designer Calligraphy focused on writing the alphabets in different creative and attractive styles. The children learnt to draw different alphabets using nature, faces and animals. They drew alphabets using lion's face in the letter 'A', palm tree using the letter 'J' and also create different faces using the letters. They wrote many messages like 'Happy Birthday', 'Happy Diwali', 'Good Luck' etc and quotes like 'A smile is a curve that sets everything straight', 'A bad workman always blames his tools', 'Just do it' and many more. Children also loved to make greeting cards, bookmarks of their name.

They shared that they were very happy to attend this workshop and decided to apply this skill in their school project, drawings, making greeting cards on festivals to look their work more beautiful and attractive. The workshop was organized on 22, 23, 24 May, 2014 by Ms. Nili Shah, a freelance artist and expert in designer calligraphy, arts and crafts.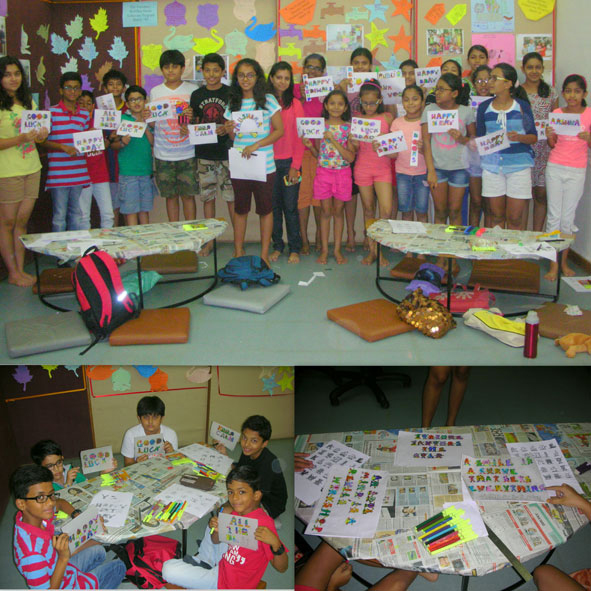 5. Happy Parenting - For Parents
Dr. Nischal Bhatt, a Poiesis parent practicing pediatrician and a development specialist for adolescents and teenagers conducted a workshop on 'Happy Parenting' on 4th Jan, 2014 for Poiesis parents.

Adolescence and teenage bring many changes at physical, mental and emotional levels of children. If these are well understood by parents and if they give age appropriate responses, children develop into confident, self development and value based individuals.

Dr. Bhatt started with brain maturation process and physical changes from adolescence and explained its implications on physical, emotional and psychological side like desire to look good, taking risks, mood swings, struggle for identity etc. He elaborated on the common illness and vaccines required.

He advised parents to remember their own teenage and also the love, affection and desire to be a coach they had felt while holding like child for the first time. Giving unconditional love, being affectionate and fostering growth by providing choices, fulfilling nutrition needs are the positive steps for their development. However, he said that since the brain has not matured fully, setting limits by defining appropriate boundaries in behaviour through dialogue is a must. He suggested ways of connecting with them through listening and responding non-judgmentally by citing a number of day to day situations.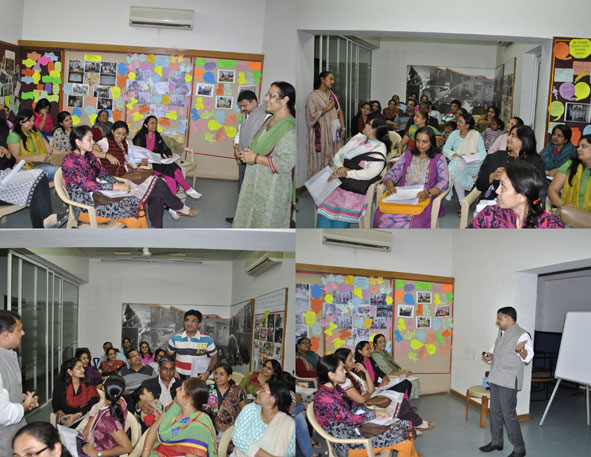 The parents participated very actively by giving alternatives for responses in different situations and also rising the issues they are facing with children on day to day basis. It was due to the active participation that each parent had some thoughts to carry back at the end of the workshop, apart from hand-outs.
2013
Year - 2013
1. Be a Good Photographer - For Children
Photography is a way of feeling, of touching, of loving. What you have caught on camera is captured forever…it remembers little things, long after you have forgotten everything." A photographer is an explorer, who composes art through picturization.

Poiesis conducted a workshop 'Be a Good Photographer' on 7th, 8th, & 9th November 2013. The workshop, conducted by Mr. Priyesh Balkrishnan, a marketing & advertising professional, focused on the several inputs like types of camera, its features, and guidelines for good photography. Children were given different assignments to learn the art of photography. During this assignment, they learnt to click pictures of single object from various angles, identified themselves with objects and described their traits. They also clicked photographs depicting a story and showed how Poiesis has changed their life by clicking three pictures – before, during and after Poiesis. The children enjoyed the workshop and also gave positive feedback.
Object as you
Ahan Kayastha - I love to play football and to go for tracking.
Poiesis and me…
Before Poiesis I was very shy, lazy, and angry, dull and had stage fear. During Poiesis I became confident and energetic. After Poiesis, I have become confident, peaceful, brilliant, and powerful. I feel I get more marks now. - Jaival Shah
I was very shy. I hated to speak in large crowd. Then after coming to Poiesis, I decided to stand up in life. I practiced a lot and finally have become a good public speaker and a leader. - Shulin Saraswat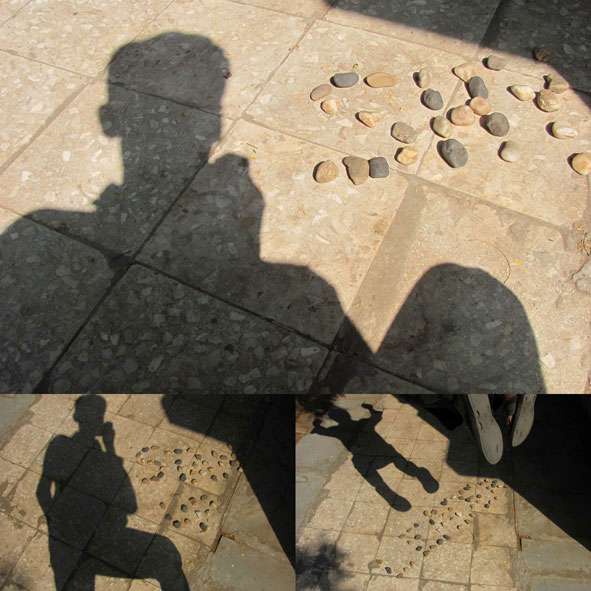 2. Adventures in Self-Expressions - For Children
We all need to and always express our thoughts, feelings and imaginations by choosing the forms of words, actions or different art forms to convey them. Every time we do it, we take a risk of either doing it well or not so well. Thus, each expression indeed becomes an adventure and each adventure teaches ways of doing it better next time!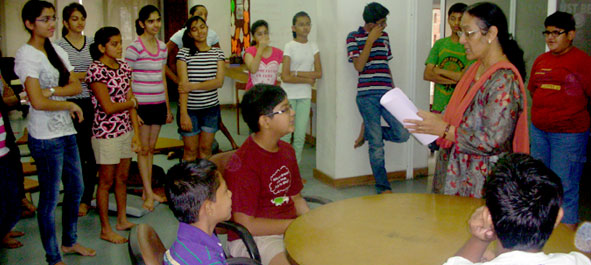 The six days of the workshop covered the processes within oneself before talking, reasons for hesitation and ways of letting go the nervousness. It focused on effective conversation in varied situations like meeting strangers, in disagreement with others, need to pursue etc. The participants had a lot of opportunities to improve their communication by practicing right style, voice modulation, body language and thinking through real-life situations. It was conducted by Prof. Daisy Kurien and Mrs. Beena Handa.
3. A Peep into the Life of a Caveman and Coral Reef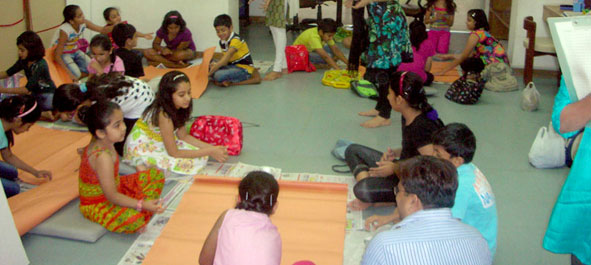 Our children who are used to electricity, civil structures and supermarkets cannot imagine about the evolution and the caveman's life. This workshop gave them a different experience of spending a day as a caveman and realize the value of the comforts of today. They used various materials like thermocol sheets, cardboard sheets, colored papers, stones, etc. to create models of caves in a jungle. They made clothes out of newspapers and also wore them! The models of Coral Reefs they made taught them a lot about ecology and working in teams. Doing all this, sitting in the class, was like travelling in the Time Machine! This workshop was conducted by experts from ILF & S, who are known for their 'learn with hands-on experience and fun' approach.
4. The First Program in Gujarati Safaltana Pratham Pagathiye (First Step to Success) - For Children
Flourish Purefoods Pvt. Ltd, Ahmedabad organized a week long program in collaboration with Poiesis Achievement Foundation for the children of Rameshwar, Desaipura and Ganeshpura Kampa(villages) near Modasa, North Gujarat. 22 children of the age 10-13 participated in this program during 25th April, 2013 to 1st May, 2013.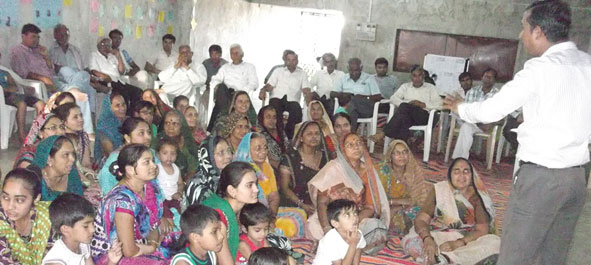 This program mainly focused on building the confidence and aspiration of young children for becoming an achiever in their area of interest. We inspired children through the childhood incidents of achievers and their contributions. They realized that achievers were like normal children but their determination helped them to overcome difficulties and meet their goals. The hands on activities, games, exercise, role-plays and skits made them realize their hidden capabilities to think and express themselves.

In the culmination event, children performed skits on childhood incident of achievers like Gandhiji, Walt Disney, Sachin Tendulkar, Graham Bell, Bill Gates and Thomas Alva Edison in presence of their parents. The role of parents was also highlighted by emphasizing their contribution to build values and inspire children to contribute in the society.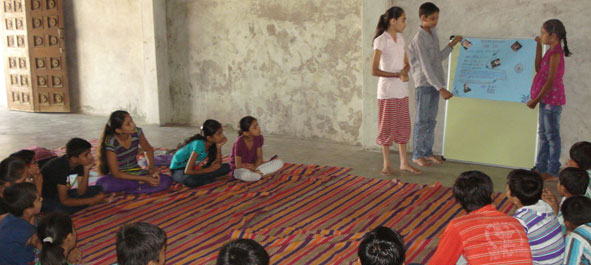 Parents appreciated children by awarding certificates of participation and shared their happiness for organizing such a good program. The people of nearby villages also appreciated the contribution of Poiesis and Flourish.

Poiesis has achieved a new milestone as this is the first program in rural area and in Gujarati language. We have planned to take this program to other villages as well.
5. Be a Good Photographer - For Children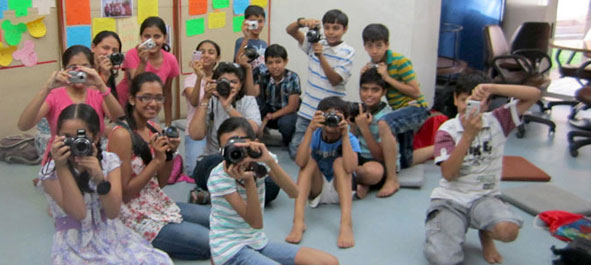 Photography helps us to capture memorable moments of our life, beauty of nature and marvel of human spirit. It is said that 'a good photograph can say a thousand words! However, we know that there is a big difference between a photograph and a good photograph. We can take good pictures only if we know the basics of photography and have enough practice!

The workshop, conducted by Ms. Anar Shukla, a media professional having experience of working with children, focused on understanding the basics of composition, lights and color for taking good photographs. The students took many photographs which were reviewed by the faculty and the feedback was given.
2012
Diwali Workshops - 2012
Diwali vacation is the time children look forward to celebrate the festival, meet relatives and friends, travel and have fun in various ways. Attending workshops became one of the good ways to learn with fun.
1. Communication through Puppets - For Children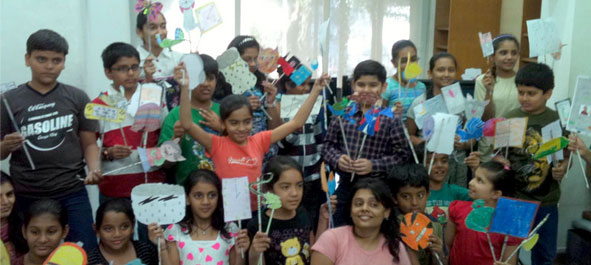 The workshop focused on understanding the meaning of puppet, types and also how to make rod puppet. The children also learnt voice modulation and debated on advantages of technology as well as how to overcome side effects like effect on health, academics, safety, personality development and social skills. They wrote scripts based on the discussions and gave characters and voice to their insights, advocating discretion and self-discipline while using the technology.
2. 'The Scientist' within each child - For Children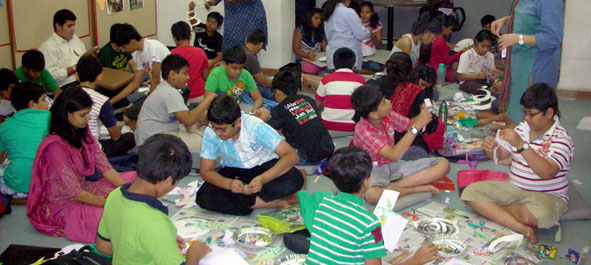 The workshop was done to evoke 'The Scientist' within each child and to develop an understanding about different concepts. The children made several objects, including a periscope to understand how light helps us to see different things. They created a theater and performed the creative stories in a team with shadow puppets. They also made a sundial to understand about shadows and time. They understood the water cycle through observation and hydropower of water through model of water – turbine and different experiments. The high point of the program was to make things that fly and internalize the principles of aerodynamics. Children were thrilled to make objects that could fly like a bird, paper plane and gyrocopter.
3. Goodbye to Boredom - For Children
In the workshop week, one morning was marked for playing board games wherein children came with different board games, found friends and had a challenging time. The process gave them an exposure to various interesting games available today.They realised that they can also have fun beyond screens of T.V, mobile, laptop, i–pad etc. The discussions lead to an understanding that we must play in-door and out-door games for developing wholesome personality. It provided a platform too to meet other children and play challenging games.
4. Nurture Your Creativity - For Children
This workshop was a good opportunity for children to unearth their creativity and experiment with designs and colors. It covered art forms of paper quilling and instant painting with sponge technique.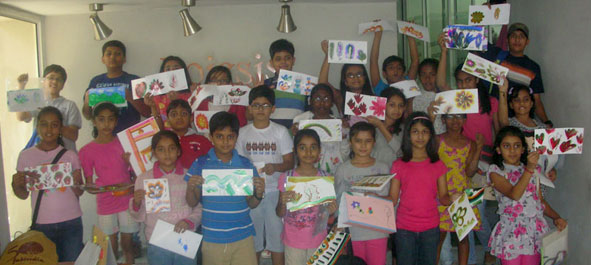 The children saw the demonstration of use of needle in paper quilling to create a Panda-first the ears and then the belly and legs. They learnt the technique by making leaves, flower, peacock etc. They used their imaginations to make a beautiful calendar. For instant sponge painting, the faculty gave demonstration on how to apply colors on a sponge and make different shapes on card paper. by using the color. The children made their paintings and created very unique cards. They were determined to use their learnings to design their school projects or making interesting gifts for family and friends. Ms. Roopal Dalal, founder of KidZany, conducted the workshop.
5. Designer Calligraphy - For Children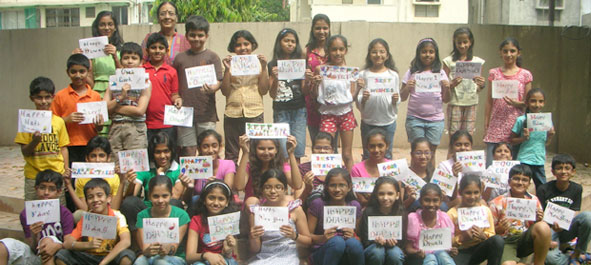 The workshop focused on writing alphabets in different and attractive styles. The children learnt to turn and twist the birds and animals into alphabets, thus, making 'K' out of a woodpecker's beak or turning the 'S' into a snake or 'B' into a fat hippopotamus. They also experimented with adding elements of nature like flowers, creepers, clouds, sun, moon, trees like palm, peepal, etc. to write A to Z. Thus, one cloud read M, out of a scene of 2 mountains, 1 rising sun and 2 small trees and 'C' out of an ocean! They wrote many messages like 'Save trees, 'Keep on Smiling', 'Best wishes' and, of course, made 'Happy Diwali' and 'Happy New Year' cards as this was organized in Diwali vacation.. The children also planned to apply this art and skill in their project work, on T–shirts and other decoration ideas. It was conducted by Ms.Nili Shah,a noted calligrapher.
6. Model Rocketry Workshop - For Children
Nehruji believed in the power of science. In his well-known quote he has said that 'who indeed could afford to ignore science today? …The future belongs to science and those who make friends with science'.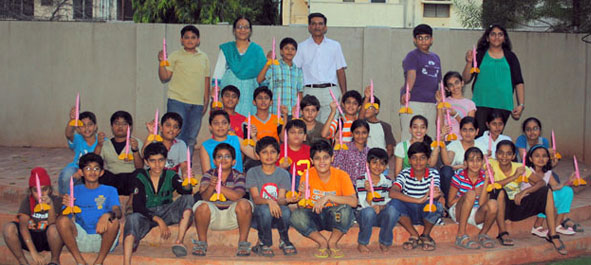 Thus, to pay tribute to Nehruji, , we organized a three days Model Rocketry Workshop for children on the eve of Children's Day in 2010. The workshop covered interesting question and answer session like definition of a rocket, difference between a rocket and a missile and various aspects of rocket science. Children were excited and their excitement and enthusiasm was visible when they actually sat for making their rockets. They gave interesting names to their rockets like Helly T., Chandrayaan, Siddharth's Flair Blitz, Zip Zap Zoom, Spirit of India and many more.

On the final day, they got ready to reach the sky. They all were ready with their parents to launch their rockets. The event was covered by media also, such as ETV Gujarati, Ahmedabad Mirror, Divya Bhasker and Times Of India – NIE. Mr Pratham Ambla, a well-known person in the field of Model Rocketry conducted the workshop.
7. In the Wonderland of Achievements - For Children
We conducted a program on 'In the Wonderland of Achievements' during May 24, 2010 to May 28, 2010 during the summer program of Karnavati Club. The objective of the program was to orient children towards achievements in life, inspire them through role models of various achievers and understand the importance of communication, relationships with friends and family, creative thinking and ways of improvements.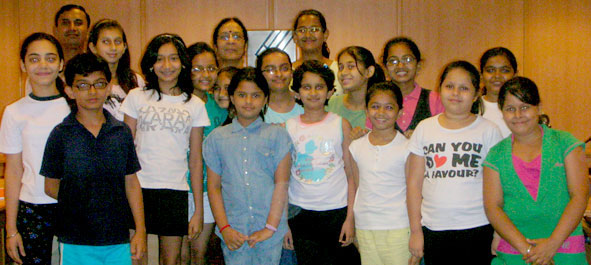 The children were exposed to a gamut of experiences through discussions, role-plays, games, riddles, puzzles and creating and expressing through situational skits. They defined achievement in many ways. Some of the points were – Anything new/challenging done for the first time, even if not done well,Doing inventions ,Anything for which people are proud about us and remember us etc.They learnt about many achievers like Edison, Bill Gates, Newton, Nehru, Gandhiji, etc.They realized that "There is no age for being an achiever. It can be at our age also."

Ms. Beena Handa, Founder Director, also conducted a session with parents on "How to be parents of Achievers". The parents raised questions on how to bring up children and also discovered some answers and guidelines.
8. Creative Story Building - For Children
Stories have been used as a very powerful medium to fire imaginations or thinking. Thinking of all types – logical, creative and critical. Pandit Vishnu Sharma used it to teach life skills to princes through Panchtantra. Children love to listen to stories of kings, fairies or superman.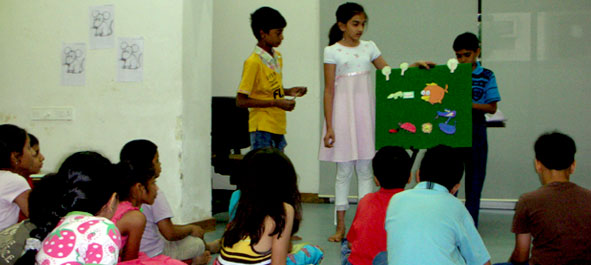 We went a step further and created an opportunity for the children to build stories… and then share them with friends and preserve it through own storybook! This workshop was conducted in May 2010.It started with presentation of story through puppets by the faculty. It was then carried forward by children. They made their puppets and told stories with the help of story board. They completed the half stories and also wrote original ones.It clearly brought out how differently we think and also how valuable each one's thinking is!!!
9. Workshop on Music Appreciation - For Children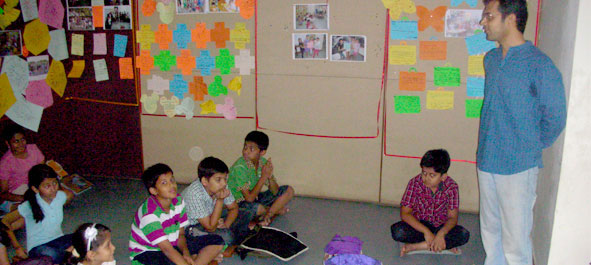 We all love music. Listening to music automatically creates response like tapping the feet or fingers, moving the head in rhythm and 'feel good' moments. What place does music have in Indian culture? What are the benefits? Which are the different kinds of music instruments? The workshop provided answers to these questions, followed by a demonstration on Tabla. The purpose was to build a base so that parents and children both can build more knowledge and explore it together in future. Mr. Rajiv Bhatt, and Soham Bhatt, a Poiesis father-son duo, who have keen interest in music, conducted the workshop.
10. Kathotsava - For Children
Our parents and children also participated in Kathotsava, organized by Red Bricks Education Foundation in 2012 and 2013. Ms Geeta Ramanujan, an internationally renowned story teller and founder of Kathalaya, Bangalore conducted the workshop, told stories and also taught how to tell stories. The participants realized the power of narration and also created many stories.
11. Star Gazing Workshop - For Children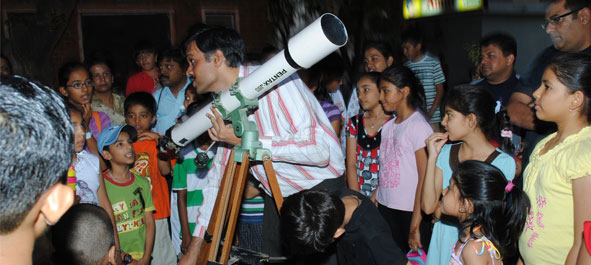 We have organized a workshop on Star Gazing in May 2010, in collaboration with Indian Astronomy Club for our children and parents.

It was a very educative and exciting event for 60 parents and children. They learnt many things about the stars, milky way, comets, man made satellites and saw planets like Venus, Saturn, Constellations of Gemini, Big bear, comet linear –3 with its two tails and a satellite. They were amazed to see one sample of meteorite and colorful meteors. The workshop was helpful in evoking curiosity about astronomy, which was visible in the type and number of questions the children asked.
12. No Fault Zone connecting workshop - For Parents
In November 2012, a 'No Fault Zone connecting workshop'. was lead by Ms. Sura Hart, an international educator and supported by Ms. Reena Ginwala and Uma Oza of Soul Spaces, Ahmedabad for parents and educators. Ms. Sura Hart is an educator, consultant, a certified trainer with the global Center for Nonviolent Communication.She has also co-authored, with Victoria Kindle Hodson, many books on parenting and classroom teaching.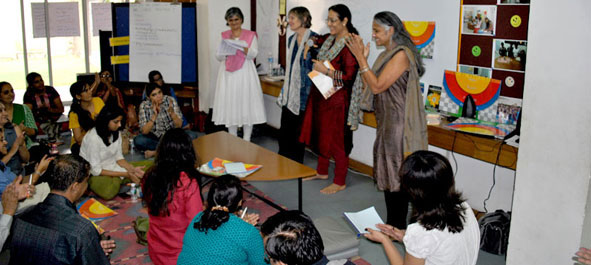 She demonstrated through various role-plays and 'No Fault Zone' process, how empathic listening and open questions between persons can lead to unfolding of feelings and needs, leading to win-win situations and establish lifelong, trust-based relationships.
13. Children and Reading - For Parents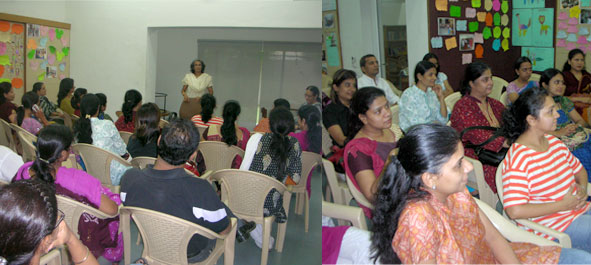 What should children read at what age and how to make them read is an universal query in parents mind. We had invited Mrs. Lata Jhala, founder of 'Reading Club' to conduct the workshop. She shared the importance of reading and the different ways in which we can encourage children to read with parents. Mrs. Aparna Kaikini, one of the Poiesis parent and participant of the workshop said, "The workshop was very informative. It gave us good ideas that are easy to implement and it was quite different from what I have learnt from other similar workshops."
14. The Power of Thinking - For Parents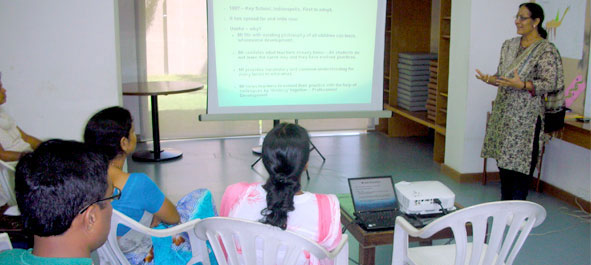 The workshop on 'The Power of Thinking' was conducted by Mrs. Beena Handa,Founder. She shared her experience and learnings from a course at Harvard School of Education. The discussion focused on 'Thinking Routines' and how to make our children think through a situation by active questioning and listening.
15. Speed Reading - For Parents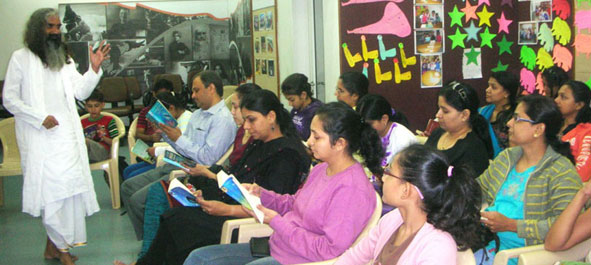 We invited parents and children for speed reading workshop. The reading workshop was conducted by Shri Manavji Sahaj ji. He has initiated a campaign called 'Read India Read.' The children as well as parents learnt how to read faster by eye brain co-ordination exercises. Doing these excercises for a longer period improves our peripheral vision and hence the speed and comprehension.